WT-A200 swage 1.6-8mm, includes Air-hydraulic foot pump,pulling devices
Description
Roll Swage With Powerful Portability
Swaging Range: 1,6- 8 mm wire. ( 1/16" – 5/16" )
A perfect machine for swaging on-site. Low weight and small outer dimensions makes it extremely portable.
Includes:
Air Hydraulic Foot Pump
Pulling devices
Transport packaging
Typical applications:
Standing rigging and lifelines for sailboats. The Swedish Navy uses it for making railing.
Architectural, like balustrades and railing.
Scenographic use at theatres for hanging and supporting set pieces.
Extensively used for on-site swaging of wire fall protection systems on roofs and buildings.
Structural rigging for hang gliders and ultra-light airplanes.
Anchoring of weather balloons.
Oceanographers uses it for swaging winch wire ropes for their surveying instruments.
Lifting strops for fuel rods at nuclear power plants.
Structural rigging for sail-roofs and sail-shades.
OUR MOST SOLD MACHINE
Dimensions:
L=500 mm (19 .")
W=300 mm (11 .")
H=140 mm (5 ó")
Weight: 19,5 kg (42 lbs)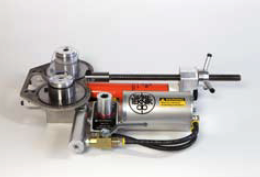 A200 fitted with Hydraulic Pump PHU1