Green walls are a great addition to any home. They give a naturally lush feel and mood to any room, as well as adding a boost of interesting texture and colour to any space. A green wall invites the viewer to come closer and engage with the space.
Here are some tips if you are looking to integrate this soft natural decorating idea into an existing living space.
Think about your goals
There are many advantages to green walls including natural shade and cooling, disguising undesired surfaces, integrating extra plants into your home or providing noise insulation. Once you have decided on your goals it can become easier to plan where you should place your vertical garden as well as helping you decide on the best plants for your wall in a natural and pleasing way.
Plan the plants
Now that you know the position you want to grow your plants and your goals for your vertical garden, it's a great time to plant the plants that you will use in your garden. Plants that have round the year greenery are great for privacy, whereas seasonal plants can be a great option for natural cooling as they provide more shade in summer but let in more of the natural light and warmth in winter. If you aren't sure what plants might suit your climate, it can be a great idea to speak to your local nursery to get a better idea.
Plant the growing system
In order to have a durable and long-lasting project you also need to choose the right system to grow your plants. The best systems are made of long-lasting materials such as stainless steel wire, which can be easily installed in vertical & grid patterns, where your plants can easily attach while getting equal access to the sunlight and nutrient-rich fertilising fluid that you need to use to keep the plants healthy. The best system for your space will depend both on the space that you are looking to install the green wall on, as well as the types of plants that you are looking to use. We recommend our Blue Wave Greenline Post for DIY vertical garden projects. These posts are easy to install into brick or mortar, with the wires easily measure, cut and connected to the Greenline Posts onsite.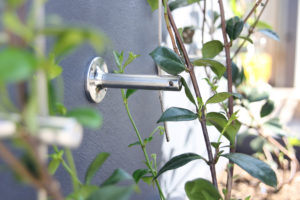 By planning ahead, you can make sure that your natural vertical garden is a fantastic addition to your home and improves its value for years to come.